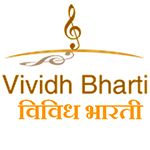 The Vividh Bharati Service (VBS; lit. 'Diverse Voices') of All India Radio was conceptualized to combat Radio Ceylon in 1957. But the central Govt. has stopped it's Short Wave relay centers as a result of which it is only available on internet . Vividh Bharati radio channel was launched on 3 October 1957.
All these programmes are produced centrally at Vividh Bharati Service, Borivali, Mumbai and up-linked to the satellite. 40 Vividh Bharati stations across the country down-link these programmes through captive earth stations provided at each of these AIR stations. Some local programme windows are also provided at these stations to give regional flavour to the listeners. Vividh Bharati is also broadcast on DD Direct Plus, the state owned DTH platform. These 40 Vividh Bharati stations are known as Commercial Broadcasting Service Stations and are located at major cities covering 97% of the Indian population.
Over the years a number prominent people from Hindi cinema have lent their voice to the channel, including, Lata Mangeshkar and actors Raaj Kumar and Amitabh Bachchan, who worked as a radio broadcaster in his early career, many celebrities take part in the popular show Vishesh Jaimala to encourage Indian Army and BSF soldiers. Today its archives which started the record of film, Yehudi Ki Beti in 1933, has 22,000 ghazals, geets and Hindi film songs. The station celebrated its golden anniversary on 2 October 2007.
Contacts
| | |
| --- | --- |
| Address | Akashvani Bhavan, Parliament Street, New Delhi 110001 India |
| Phone | +9826015859 |
| Email | info@vividhbharti.org |
| Website | https://www.vividhbharti.org/ |
Frequencies - Vividh Bharati