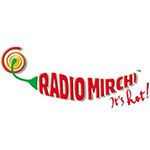 Radio Mirchi is a nationwide network of private FM radio stations in India. It is owned by the EntertainmentNetwork India Ltd (ENIL), which is one of the subsidiaries of The Times Group. mirchi is Hindi for Red Chilli. The tagline of Radio Mirchi is "Mirchi Sunnewaale Always Khush!" ("Mirchi Listeners are Always Happy!"). It is the first privately owned radio station in India.
Radio Mirchi maintains weekly music charts (or record charts) for India. The most followed charts are Mirchi Top 20 (Bollywood Songs) and Angrezi Top 20 (English Songs). Both of these charts are a ranking of recorded music according to popularity. These charts are published on a weekly basis in the Indian English-language daily newspaper, The Times of India, and on Radio Mirchi's official website.
Mirchi has its stations in India and also in GCC[clarification needed] countries UAE & Qatar and Bahrain.
As per the latest IRS[clarification needed] data released in 2017, Radio Mirchi has emerged as the number one FM broadcaster in Delhi and Mumbai, as well as in the top 8 metros taken together.
Radio Mirchi playlist
| | |
| --- | --- |
| Meethi Meethi (2022) - Jubin Nautiyal,Payal Dev | Live |
| Naagin - Naagin (2019) | 11:36 |
| Kala Sha Kala (2022) - Dev Negi, Raahi | 11:34 |
| Coka 2 - Liger (2022) | 11:24 |
| Pyar Ke Pench (2006) - Kunal Ganjawala, Roop Johrie | 11:18 |
| Ek Toh Kum Zindagani - Marjaavaan (2019) | 11:14 |
| Diwali Aayee Hai Diwali - Diwali | 11:04 |
| Dhoke Pyaar Ke (2022) - B Praak | 11:00 |
| Habibi (2022) - Mohd. Danish, Sayli Kamble | 10:52 |
| Mirchi Saturday Sports 3 - Mirchi FM | 10:48 |
Contacts
| | |
| --- | --- |
| Address | 5th Floor, Varun Towers Kasturba Marg, Siripuram Junction Visakhapatnam - 530 003, AP |
| Phone | +91-891- 2525983; Fax: +91-891-2577983 |
| Email | tarun.handa@timesgroup.com |
| Website | https://www.radiomirchi.com/ |
Frequencies - Radio Mirchi