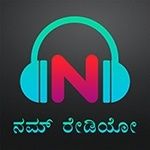 Namm Radio - Gulf Radio Stream
On the air:
22 Mar 01 GH.mp3 - - 22 Mar 01 GH.mp3
Genre:

oldies, music, indian-music, kannada

City:

Bangalore

Bitrate:

128 kbit/s

First air date:

28 February 2016

Frequency:

Web Radio

Language:

kannada
Namm Radio is the first Kannada online radio channel started by Pastime Production Private Limited. NammRadio was on trial for one month before its launch. Nammradio was launched by famous Hindustani musician Nagaraja Rao Havaldar along with Col Kaushik, N.R. Vishukumar Director of Department of Information and Public Relations (Karnataka) alongside Kannada actor Chetan Kumar. Avanidhar Havaldar Founder & CEO of NammRadio has taken it to 196 countries today with 6 million listeners.
Namm Radio - Gulf Radio Stream playlist
| | |
| --- | --- |
| 22 Mar 01 GH.mp3 - - 22 Mar 01 GH.mp3 | Live |
| BHAKTI RAAGA 01.mp3 - - BHAKTI RAAGA 01.mp3 | 06:01 |
| 23 Mar 04 GH.mp3 - - 23 Mar 04 GH.mp3 | 21:01 |
| 25 Mar 01 Sakkath Sanje.mp3 - - 25 Mar 01 Sakkath Sanje.mp3 | 17:01 |
| 22 Mar 02 GH.mp3 - - 22 Mar 02 GH.mp3 | 07:01 |
| THURSDAY 02 br 14.mp3 - - THURSDAY 02 br 14.mp3 | 06:01 |
| 23 Mar 04 GH.mp3 - - 23 Mar 04 GH.mp3 | 21:01 |
| 24 Mar 01 Sakkath Sanje.mp3 - - 24 Mar 01 Sakkath Sanje.mp3 | 17:01 |
| 23 Mar 03 GH.mp3 - - 23 Mar 03 GH.mp3 | 11:01 |
| Airtime - offline | 10:01 |
Contacts
| | |
| --- | --- |
| Address | 405, Namma Kanasu 1st Cross 10th Main Road Dollar Layout JP Nagar 4th Phase |
| Phone | +91 73381 28901 |
| Email | info@nammradio.com |
| Website | http://nammradio.com/ |